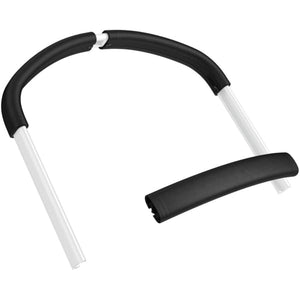 Enjoy the smoothest ride, plus elegant and soft handling with the Bugaboo Cameleon 3 Leather-Look Upgrade Set. Use this upgrade set to enhance your Stroller, making it elegant, stylish, and very comfortable to maneuver—a small change that will make a big difference. 
This item contains an upgrade set for the top handlebar and carry handle (3 sleeves) for the Bugaboo Cameleon 3 or Cameleon 3 plus.
Soft grip to give you even more comfort
Specifically designed to fit right on to the handlebar and carry handle
Quick and easy application with an auto-lock zipper that folds flat against the sleeve
 Please Note: Before attaching your new leather-look upgrade set, please remove and discard the original foam grips. You may need to cut the foam to remove it — please read the instructions in the box for full details.