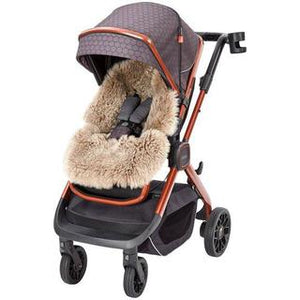 The Diono Sheepskin Liner is a fashionable, and cozy seat cover that protects your stroller and enhances comfort. Your infant will be snug and warm though not overheated, as its fibers enable air ventilation and moisture absorption. In addition, this natural wool is antibacterial, and will always give that fresh feel. This liner features a 5 point harness for easy compatibility  with most strollers.
Comfortable and trendy seat enhancer.
Absorbs moisture and allows air ventilation.
Naturally maintains soft and fresh feel.
5 point harness.
Compatible with all Diono strollers and most other brands.
100% natural sheep skin.
Clean with fine brush, If washing required hand wash cold, Do not tumble dry.